In 1937 Victorinox began selling cutlery in America through a Connecticut distributor called R.H. Forschner & Co. A well-known manufacturer of butcher scales, Forschner soon became the exclusive U.S. distributor for Victorinox knives, and was the name by which Victorinox knives were known. In 2011 Victorinox began marketing all its product lines, including kitchen knives, under the name Victorinox Swiss Army. And that brings us to today where we find Victorinox manufacturing the 8 inch Fibrox Pro Chef's Knife.
No other chef's knife appears to get the same respect that the Fibrox 8-Inch Chef's Knife gets from professional testers, expert reviewers, amateur foodies and beginner cooks. It performs exceptionally well and can handle nearly every kitchen task they through at it. "Highly Recommended" for over 20 years by a leading gourmet consumer magazine that features unbiased ratings and reviews of cookware and kitchen equipment, this Chef's Knife is preferred due to its comfortable handle, superior weight and balance, and razor sharp edge that rarely requires re-sharpening.
Victorinox 8 Inch Fibrox Pro Chef's Knife Videos :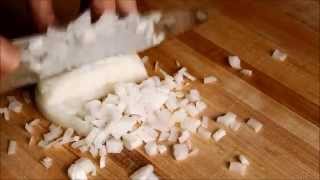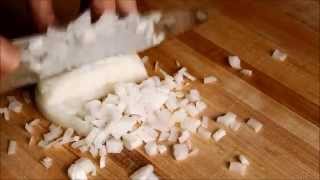 Victorinox 8 Inch Fibrox Pro Chef\'s Knife
Victorinox 8 Inch Fibrox Pro Chef's Knife Features
– Multipurpose chef's knife designed for chopping, mincing, slicing, and dicing with razor sharp, laser-tested, tapered knife edge is ground to form an exacting angle, to hold a sharp edge longer and ensure maximum cutting performance and durability.
– Ergonomically designed, non-slip Fibrox Pro handle provides a sure grip and easy handling even when wet, making each knife safer and more efficient.
– "Highly Recommended" for over 20 years by a leading gourmet consumer magazine that features unbiased ratings and reviews of cookware and kitchen equipment.
– Expertly crafted in Switzerland since 1884; designed for professionals who use knives all day, every day; lifetime warranty against defects in material and workmanship.
– Swiss item #: 5.2063.20 is imprinted on the blade. This is the same exact knife as 40520, 47520, 45520, and 47520.US2. The only difference is how the knife is packaged.
Our Victorinox 8 Inch Fibrox Pro Chef's Knife Review
An all-purpose chef's knife is an essential tool for every cook whether working in a large restaurant or just making the family meals at home. The Victorinox Fibrox 8-inch chef's knife is a medium-sized high-carbon stainless steel all-purpose knife that is optimally weighted with high-quality, lightweight European steel that reduces hand and wrist fatigue, making it feel less like a knife and more like an extension of the hand. Perfectly suited for dicing onions, mincing shallots, chopping herbs, crushing garlic, slicing meats of all varieties, and shredding cabbage, its versatility will quickly make it your go-to knife.
At 8″, this knife offers the heft needed to complete larger tasks effortlessly, while still allowing for perfect maneuverability on smaller tasks that a larger, bulkier knife may not be able to accomplish as easily. The overall shape of the blade, with a long, sloping curve, lends itself to "rocking" very well, allowing one to mince and chop with ease, while the flat spine allows you to comfortably press down on the blade when extra power is needed to slice through hard-skinned items like acorn, or butternut squash.
The ergonomic, non-slip patented Fibrox Pro handle was designed to minimize wrist tension while providing a secure, comfortable grip no matter the size of your hand or where you are gripping the handle. Both lightweight and durable, the textured handle offers perfect balance and feels secure even when greasy or wet, allowing for precise and effortless cuts every time.
For all of these reasons, Fibrox Pro cutlery has been the choice of culinary professionals for decades, and also due in part to the fact that it is hygienic and dishwasher safe. The National Sanitary Foundation (NSF) certifies that this product is made to the highest sanitary standards, so you can cut with confidence.
Victorinox Fibrox Design
The knife has an 8 inch straight stamped blade made from high carbon stainless steel. It features a partial tang, which is buried in a plastic handle. It has a fairly deep belly and has a rather high handle when the edge of the blade is against the cutting board, ensuring that even larger fingers are not going to hit the board when gripping the handle.
The blade has been forged wit a slight curved toward the tip so as to allow for a gentle rocking motion when you are preparing vegetables. This motion helps prevent wrist strain, and the overall depth of the blade will make even the most stubborn vegetables submit with limited effort.
Due to the size of the knife it is ideal for the preparation of fruits, vegetables and meat, so a good all-purpose. Due to the fact that it has a slightly heavy tip it tends to want to do jobs where it is pointing down, but you will find that as you get used to the knife you will be able to accomplish any task at hand.
Fibrox Knife Options
The Fibrox knife is an excellent stand-alone knife so let's now talk about size, handle, sets and sharpening technique.
Fibrox Sizes
This Victorinox chef's knife comes in multiple sizes, from 6 inches to 12 inches. As the blades get bigger, they lose some of the versatility displayed in the 8 inch, as it is rather awkward for finer detail and some may even find it difficult to handle.
The smaller knife also loses some versatility in that it is quite narrow and is more similar to a chef's knife crossed with a paring knife. And as there is not a lot of belly on the knife, knuckles will hit the cutting board which could end up being quite painful by the end of the day.
As with all knives, the overall experience and opinions on a blade are different for every person. Many will find the 10-inch blade the correct size for them due to the same reasons one may dislike the 10-inch knife. The best way to see if a knife will work for you is not to go on the opinions of others but rather, go to your local knife store and hold the knives, if at all possible. You will know so much faster whether a knife may potentially work for you after feeling its weight, balance and materials.
The other thing to remember about the different sizes is that even though they use the same metal, there will be less play in a shorter blade than a longer one. There will also be less room between your fingers and the cutting board as the blade becomes smaller. Both of these things are important to remember when deciding on the right size.
Fibrox Sets
The Fibrox 8 inch chef's knife is available as a stand-alone product but is also available as a 3-piece Chef's Set where it is combined with the 8 inch carving knife and the 3 ¼ inch paring knife. This gives you the ability to have the paring and carving knives of the set, along with the main chef's knife. While there are other mini sets for the Victorinox Fibrox knives, none include the 8-inch knife.
Larger options available are the Victorinox Fibrox Professional 13 Piece Swivel Knife Block Set with Free Swiss Army Knife.
This includes:
8 Inch Chef's Knife
7 Inch Santoku
8 Inch Break Knife
3.25 Inch Paring Knife
Kitchen Shears
10 Inch Sharpening Steel
6 X 4.75 Inch Serrated Steak Knives
Knife Block
Free Waiter Red Swiss Army Knife
Fibrox Handle
The handle is a very simple, ergonomic black handle that is missing any real distinguishing features. It is one of those cases where you can say "there you go, it is a handle" and not much else as that is all it is. The blade's tang is embedded in this handle and goes about half way down, which unfortunately means it is not a full tang.
How to Sharpen Your Victorinox Chef's Knife
Due to some reviewers having issues with this knife's ability to hold a strong edge we decided to include this sharpening section. One thing that's certainly a positive here is that this knife is fairly easy to sharpen.
There are many ways to sharpen knives in general, particularly kitchen knives. Often butcher shops will offer a profession knife sharpening service for a nominal fee, if not free. Many stores which sell knives, such as House of Knives, offer the same service and guarantee that the knife will be sharpened correctly and safely.
Another option is to sharpen the blade yourself. Victorinox does offer a few sharpening options such as:
Diamond Knife Sharpener
Swiss Sharp Handheld Knife Sharpener
10-inch honing steel
They also made a video which shows you how to keep the edge on your chef's knife incredibly sharp and ready for use. Watch below.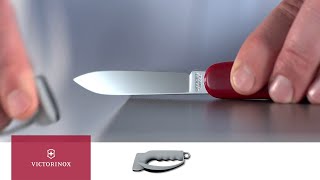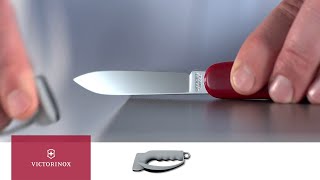 Victorinox 8 Inch Fibrox Pro Chef's Knife Sharpening
The video essentially shows you how to use a steel, a hand held sharpener and finally a whetstone. Obviously, the whetstone is preferable and one must always remember to make sure there is lubrication on it when in use. These stones can be found in many different grits and the higher the number, the smoother the finish. When working on a very dull knife or one with chips or dents, you must start on the lowest grit setting first to aggressively remove the damaged part of the blade and then slowly work up stone by stone until you are finally left with a razor sharp mirror finished edge on your blade once more.
Fibrox Care
Be good to your knives and they'll be good to you. Following these simple guidelines will ensure that you get the longest life out of your knife!
Hand Washing
Victorinox Swiss Army recommends washing all knives by hand. For best results, hand wash your knives with a soapy cloth and dry immediately. While nothing will happen to this chef knife, if it gets into the dishwasher, for your own good, consider hand washing it. This should not take you long, since the stainless steel blade, does not hold on dirt. As you wash it, make sure that the blade is positioned safely, lest you hurt yourself. Your normal dish washing agents will effectively dislodge any dirt from the knife.
Dishwasher
While Fibrox Pro knives are dishwasher safe, it is recommend hand washing as dishwashers are designed to spray water at a relatively high pressure, which can jostle the silverware and cause the knives to collide, dulling the edge.
Maintaining your Fibrox Knife's Edge
For optimum performance, knives should be honed after every couple of uses. Proper and frequent use of a honing steel will keep your knives sharper and performing at their best, but remember that a honing steel will not sharpen a dull knife. Honing steels are maintenance tools and are used to help keep an already sharp blade from degrading. During use, a knife edge becomes rolled or turned from direct contact with cutting boards, bones or other hard objects. In this case, honing is necessary to straighten the edge of the knife.
After significant use, the steel particles become damaged and the edge cannot be brought back by honing, so sharpening is necessary. If your knives are dull, pitted, or you see visible nicks on the cutting edge, you'll need to sharpen with the Swiss Sharp Handheld Sharpener or bring to a professional for re-sharpening.
What 8 Inch Fibrox Pro Chef's Knife Customers Say :
Summary :
The Victorinox Fibrox 8-Inch Chef's Knife is a great kitchen tool. It eliminates the need for you to buy a number of knives, for various uses. It will dice, mince, slice or chop, whatever you want, without much effort. The blade is made entirely of high carbon stainless steel and experts say the handle is comfortable and well-designed for an optimal ergonomic experience regardless of grip.stainless steel to ensure its longevity and efficiency. This Victorinox knife is as efficient at dismembering a chicken as it is finely slicing a delicate tomato so it takes the handling of the chef's knife to another level.
It has been tested against dozens of other chef's knives, some with price tags nearly 10 times the cost of this knife, and the 8″ Fibrox Pro Chef's Knife is still the one to beat! Why not buy one and make it a part of your kitchen cutlery.